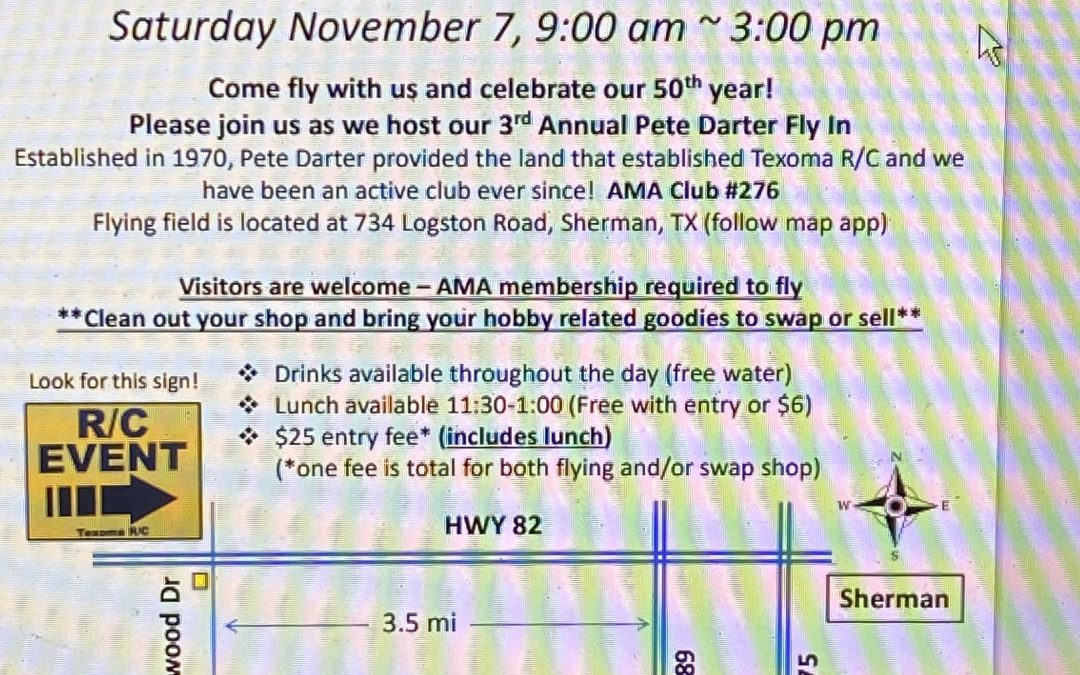 Pete Darter
Fly In & Swap Meet
Saturday November 7, 9:00 am ~ 3:00
Sorry for the late post… Technical issues!! A wrong turn in the middle of the Oklahoma Panhandle brought some history to the Guymon Fun Fly in September. A cold front and high winds on Sunday did not keep 12 pilots from showing up ready to tear up the skies at Guymon Flying Tigers RC Club. There was a wide variety of planes and a really neat jet. The club had several awesome raffles such as P-51, Super Tiger and a Chipmunk.Lunch was an out of this world hamburger, french fries and homemade cobbler.
The maintenance crew for the Commemorative Airforce's B-17G,"Texas Raiders" that is stationed out of Conroe Texas. Took a wrong turn and made a memorable visit to Lear Field.One of the guys, Paul Bienvenu, The Woodlands TX, saw the P-51 that was one of our three Fun Fly pilots' drawings, fell in love with it, and registered.Sunday came with good news that Paul had won the P-51.The P-51 will escort the Texas Raiders B-17G from here to El Reno Ok via being in the tail section of the B-17G.